Drachenwald Autumn Crown Tournament
October 12 – 14, 2018
Rödental (near Coburg), Germany.
Oyez,  Oyez, Oyez!
Vitus and Isabel, by the power of inspiration and the might of the sword, winner of the royal coronets of Drachenwald wish to see the rise of their heirs, and herewith invite you to attend a tournament in the autumn of 2018!
Be you strong of body, resolute in your convictions, steely in your resolve and pure in your skill at arms? Are you ready to take the challenge that only few before have been able to bear? Then come all challengers, who wish to gain the most prestigious of prizes – The Crown of Drachenwald! Is your interest of the gentler arts? Come and showcase your work for a popular choice price in an A&S display as well as compete in the Kingdom A&S  competition. Are you a gourmet? A feast to please the palate and celebrate the day will be held on site. Or do you just like to stroll through the middle ages?
Their Royal Highnesses and Their Excellencies of the ancient Barony of Knight's Crossing invite you to Their lands of Turmstadt to watch, display, compete and be. Come one and come all to the next Autumn Crown Tournament!
On this website you will find all the important information (some will be added in the next months). If you have any further questions please contact the Event Crew.
Location

Pfadfinderförderverein e.V.
Jugendzeltplatz Sauloch
Sonnenleite 20
96472 Rödental
Site's website
(external)
Times
Site opens 12th Oct 6pm
Site closes 14th Oct 11am
Site Impressions (right)

Pics from previous Kingdom Events on site, pics by Cornelia vom Diestelfeld und Margareta Arvidsdotter
Your Event Crew is looking forward to seeing you!
Freiherrin Anna Syveken
Event Steward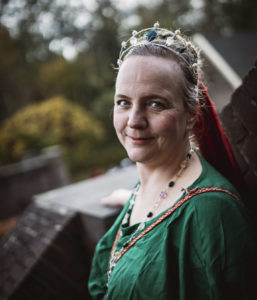 mka Sina Vogt
Contact for general topics
E-Mail: event@knightscrossing.org 
Herr Richart von Brandenburg
Event Steward

mka Martin Noack
Contact for general topics, Royal Liaison, Web
E-Mail: royal@knightscrossing.org 
Lord William Gifford
Event Steward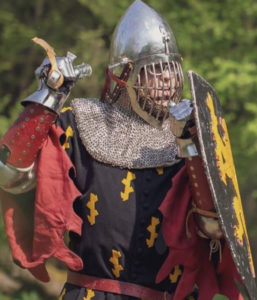 mka Christian Gelszus
Contact concerning the Tournament
E-Mail:
tourney@knightscrossing.org 
Lady Katherina Mornewegh
Reservation Steward
mka Hanna Gelszus
E-Mail:
reservation@knightscrossing.org